OTTAWA,  March 1, 2016 – C-COM Satellite Systems Inc., (TSXV: CMI; US – OTC: CYSNF) the leading global provider of mobile auto-deploying satellite antenna systems, today announced that its iNetVu®  98 cm Ka-band vehicle mount and flyaway antenna systems have received type approval from Hughes Network Systems (HUGHES), for use on its high-throughput JUPITER™ System satellite networks. HUGHES is the world's leading provider of broadband satellite solutions and services and a wholly owned subsidiary of EchoStar (NASDAQ: SATS).
"We are excited that our iNetVu® Ka-98H and Fly-98H platforms, integrated with the latest JUPITER transceivers and modems, have successfully passed the comprehensive HUGHES testing and approval process," said Bilal Awada, CTO of C-COM Satellite Systems Inc.  "Operating with JUPITER— the world's leading platform for high-throughput satellite networks— significantly expands C-COM's addressable market for transportable antenna systems, bringing very high data throughputs to mobile users."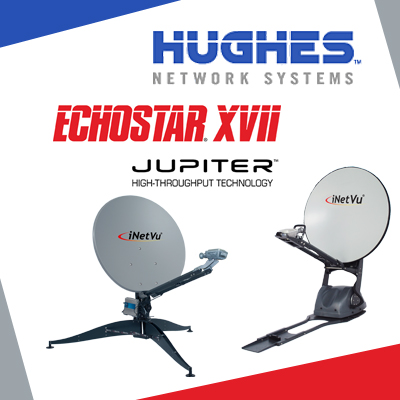 "The 98H series JUPITER-compatible antennas are supplied with C-COM's proprietary iNetVu® controllers which have been field tested for over a decade and are in use with more than 7,000 units in the field" said Leslie Klein, President and CEO of C-COM Satellite Systems Inc. "These cost-effective driveaway and flyaway systems offer an attractive solution to customers interested in taking advantage of the availability of higher speed and lower cost Ka-band service offerings," Klein continued.
The new antennas operate in Ka-band but are field upgradable to Ku-band, and are ideal for Broadcasters, Oil and Gas Exploration companies, Telemedicine, First Responders, as well as governments and military.
"We are pleased to authorize use of the Ka-98H and Fly-98H series of antenna systems from C-COM Satellite Systems on our high-throughput JUPITER System platform," said Dave Rehbehn, vice president, International Sales and Marketing for Hughes. "We've worked with C-COM for a number of years and many customers worldwide of our satellite networks have successfully deployed their antenna systems."
The iNetVu® 98H antenna systems are in full production and are available for immediate delivery.
About Hughes Network Systems
Hughes Network Systems, LLC (Hughes) is the global leader in satellite broadband for home and office, delivering innovative solutions and a comprehensive suite of HughesON™ managed services for enterprises and governments worldwide. HughesNet® is the #1 high-speed satellite Internet service in the marketplace, with offerings to suit every budget. To date, Hughes has shipped more than 5 million systems to customers in over 100 countries, representing approximately 50 percent market share. Its products employ global standards approved by the TIA, ETSI and ITU organizations, including IPoS/DVB-S2, RSM-A, and GMR-1.
Headquartered outside Washington, D.C., in Germantown, Maryland, USA, Hughes operates sales and support offices worldwide, and is a wholly owned subsidiary of EchoStar Corporation (NASDAQ: SATS), a premier global provider of satellite operations and digital TV solutions. For additional information about Hughes, please visit www.hughes.com.
About EchoStar
EchoStar Corporation (NASDAQ: SATS) is a premier global provider of satellite and video delivery solutions. Headquartered in Englewood, Colo., and conducting business around the globe, EchoStar is a pioneer in secure communications technologies through its EchoStar Satellite Services, EchoStar Technologies Corporation and Hughes Network Systems business segments. For more information, visit echostar.com. Follow @EchoStar on Twitter.
About C-COM Satellite Systems Inc.
C-COM Satellite Systems Inc. is a leader in the development, manufacture and deployment of commercial grade mobile satellite-based technology for the delivery of two-way high-speed Internet, VoIP and Video services into vehicles. C-COM has developed a number of proprietary Mobile auto-deploying (iNetVu®) antennas that deliver broadband over satellite into vehicles while stationary virtually anywhere where one can drive. The iNetVu® Mobile antennas have also been adapted to be airline checkable and easily transportable. More than 7000 C-COM antennas have been deployed in 103 countries around the world in vertical markets such as Oil & Gas Exploration, Military Communications, Disaster Management, SNG, Emergency Communications, Cellular Backhaul, Telemedicine, Mobile Banking, and others. The Company's satellite-based products are known worldwide for their high quality, reliability and cost-effectiveness.
C-COM is also involved in the design and development of a new generation of Ka-band (communications on the move) antennas, which will deliver satellite broadband solutions into vehicles while in motion. More information is available at: www.c-comsat.com
iNetVu® is a registered trademark of C-COM Satellite Systems Inc.
# # #
Neither TSX Venture Exchange nor its Regulation Services Provider (as that term is defined in the policies of the TSX Venture Exchange) accepts responsibility for the adequacy or accuracy of this release.