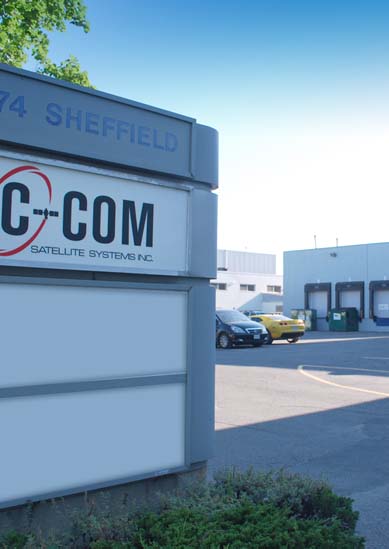 Established in 1997, C-COM Satellite Systems Inc. is a world leader in the design, development and manufacture of commercial grade, fully motorized, auto-pointing mobile antennas (iNetVu®) for the delivery of broadband Internet to remote locations.
The company has been a pioneer in the one-button, auto-deploy VSAT market – with over 10,000 units in the field, in over 100 countries. The iNetVu® brand is synonymous with reliability, affordability and superior technology.
C-COM has developed Comm-on-the-Pause (COTP) antennas that operate in all major satellite bands (Ka, Ku, C, and X-band), in sizes (from 74cm to 2.4M) and in various formats (Driveaway, Flyaway, Manpack and Fixed Motorized).
The iNetVu® 7000 series Controller allow users in any vertical market to connect to any satellite in under 2 minutes, with just the push of a button, providing voice, video and data to users around the globe.
Users of the iNetVu® product include World Governments, Militaries, Oil & Gas companies, Broadcasters, Emergency Responders, Hospitals (Telemedicine), Banks (Mobile Banking), Schools (Mobile Education), Race Teams, Mining Companies and many other verticals.
The Company is currently involved in the design of the Next-Generation 'always on' Comm-On-The-Move (COTM)antennas for the Ka-band market. These new antennas will address the delivery of 'always on' Ka-band broadband solutions into land based, on the move vehicles like cars, trains, buses, etc.
iNetVu® is a registered trademark of C-COM Satellite Systems Inc.
C-COM SATELLITE SYSTEMS
BOARD OF DIRECTORS
The company is governed by a Board of Directors comprised of four people.
Current members of the Board of Directors (BoD) are:
Dr. Leslie Klein, P.Eng.
Mr. Eli Fathi
Dr. Arunas Slekys, Ph.D.
Mr. Ronald Leslie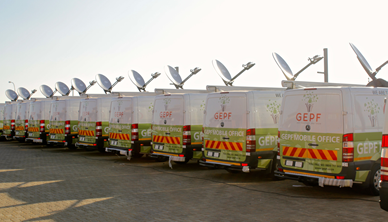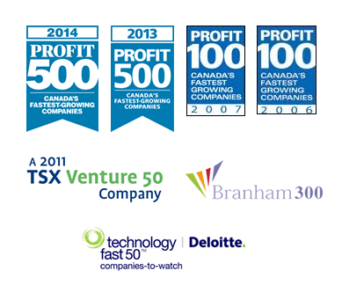 C-COM SATELLITE SYSTEMS' AWARDS
When it comes to delivering high-quality, cost-effective solutions for Mobile Satellite Communication applications across the globe, C-COM provides world class, innovative solutions to its customers. C-COM has merited a series of awards and recognition's for excellence in Business and Technology.
• One of 50 best performing companies on the TSX Venture Exchange
(out of 2,250) in 2011
• Profit Magazine's 100 and 500 Fastest Growing Companies in Canada Award
• Finalist for WTA Teleport Technology of The Year Award
• Winner of Companies-to-Watch Award
• Branham300 Top 250 list since 2009
WHAT CUSTOMERS ARE SAYING ABOUT
OUR PRODUCTS AND SERVICES
Here are examples of what our customers have to say about our products and support. You'll notice many enthusiastic comments about customer experience with the iNetVu®, which is no surprise to us, because we emphasize customer satisfaction right from the product development stage.
"Benchmark Data Solutions is a Canadian company that specializes in supplying remote communication services primarily in the oil and gas sector. We use the C-COM iNetVu® equipment to supply a cost effective satellite solution on remote locations where customers require a high speed and reliable internet connection to run their critical operations. Benchmark Data Solutions thinks the iNetVu product is by far the best 'bang for your buck' satellite antenna system. We are highly impressed with the consistent speeds, reliability and durability."
Bevan Hoynick – President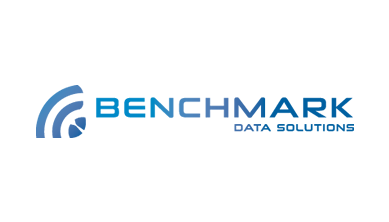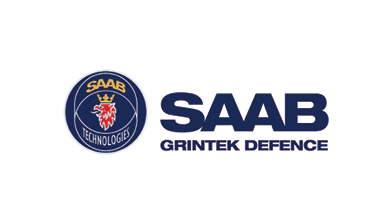 SAAB GRINTEK TECHNOLOGIES
"As a user and reselling partner in South Africa, we can only give the highest accolades to C-COM for providing the iNetVu® antenna system to our industry with excellent support and with a very high quality product. The ease of deployment and versatility in operational use has proven to be a valuable tool for governmental and special corporate needs."
Gustav Engelbrecht – Saab Grintek Technologies (Pty) Ltd Product Manager Satellite Solutions
NASA / KENNEDY SPACE CENTER
"We have been very pleased with the performance of the 1.2m iNetVu® satellite dish mounted to the roof of our NASA Airstream Mobile Scientific Laboratory at the Kennedy Space Center. We have used the system for over 4 years and it has been very reliable, easy to deploy, and use. It has allowed us to deliver high speed Internet, voice, and video quickly into areas for remote scientific operations."
Jim Dumoulin – Lead Engineer
NASA / Kennedy Space Center
Telescience Laboratory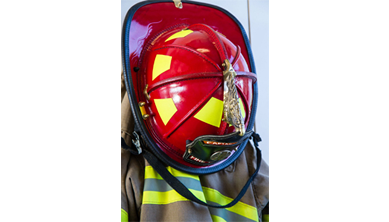 FROM: CAPTAIN/HAZARDOUS MATERIALS, FIRE SERVICE (24 YEARS AS A FIRE FIGHTER) TO: C-COM
Our Fire Service is tasked with the protection of our geographically significant city with a population of approximately 1 million. We currently operate 3 C-COM satellite systems for Mobile Satellite Internet and voice communication; one for our Command Vehicle and two for the Hazardous Materials units. We provide Level Three Haz-Mat and CBRNe defense over an even larger geographic location, and the need for voice and Internet, whenever and where ever, is paramount. The true test of any tool is using it in the Fire service. We have used C-COM's auto-pointing antenna systems since 2006 and they have proven to be both consistent and robust.
Our teams have commented that of all the systems on board, the most reliable has been the satellite networks. As the systems administrator I have found C-COM's systems support exceptional. Any issues have been dealt with in an expedient and professional manner. Due to all of the above we have just purchased a new C-COM antenna system for a new Hazardous materials unit.
SCARBOROUGH FIRE DEPARTMENT
My name is Gary Sandler one of the Deputy Chiefs of the Scarborough Maine Fire Department. I am currently in charge of our Marine division, Hazardous Materials Team and Training Division. One of my larger collateral duties is the communications system for the department which includes a 27' mobile command post. In September of 2012 I needed to replace our aging/out-of-date satellite system. After many months of research I decided to go with the C-Com 981 dish and 7024 controller. I purchased it in August of 2013. It deploys and stows at the push of a button with no set-up. We use this system in conjunction with our cellular system for our mobile internet, dispatch and VoIP phone systems. The unit acquires fast and once the connection is made it is rock solid and never skips a beat.The unit is used in all types of weather for extended periods of time at Fire incidents, Hazardous Material incidents and Police calls as well. Our unit has worked perfectly. Satellite systems have many parts that need to work together, hardware, software and technical support teams. Of the few times I have had to call C-Com with a technical question C-Com's team has been a pleasure to work with. They answer the questions and explain everything so non-technical people can understand the answer. I would highly recommend C-Com and this particular unit to any Public Safety organization looking for a reliable and well-built satellite system.
Deputy Chief Gary Sandler
Scarborough Fire Department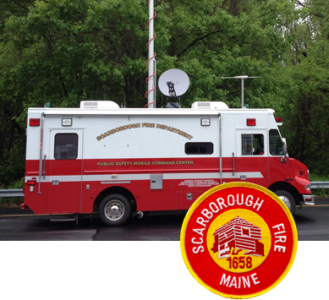 "Primetech have worked closely with C-COM for a very long time, the iNetVu® platforms have stood the test of time and the support we have received over the years is second to none. We are proud to work with everyone at C-COM and look forward to our continuing to build on our joint success".
Henry A Walker, Director, Primetech (UK) Ltd
Primetech (UK) Ltd
Blackthorn Productions is a production company based in Northern Ireland which has been operating for more than 15 years, their main clients are BBC Radio Ulster, BBC Radio 3, Radio 4 and RTE 2FM.
"In the spring of 2013, we purchased an iNetVu® Ka-75V system for our new OB unit. We went with the Ka-75V and TooWay to suit our connection needs for transmitting audio. The unit itself is very compact and lightweight, which is suitable for mounting to the roof of a van. It only took two of us and a step ladder to place there. Its control interface only takes up one U in a conventional rack leaving us plenty of space for the remainder of our broadcast chain. The unit has proven to be ultra-reliable, quickly acquiring with the push of a single button and we can be on the air within minutes if needs be. In over one year, we have never encountered a problem getting a broadcast out, some of which have been in less than ideal circumstances: e.g. parking on slopes, at the bottom of hills with no option but to have parked the van westerly, or in high wind scenarios etc…
Primetch_Pic1At the beginning, as with any new piece of equipment, there can be quite a learning curve when configuring and commissioning the equipment. I have to say we have found Henry and his team very accommodating, knowledgeable and always willing to answer the phone, even at odd hours when we had stupid questions. We have even had a three-way conference call with us in Northern Ireland, Henry in England and a Canadian team (C-COM) updating our system software via a remote access. Overall we would recommend the KA-75V platform especially with support from Primetech."
David Walker
Blackthorn Productions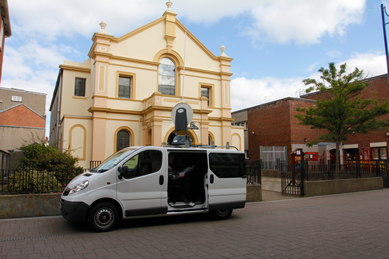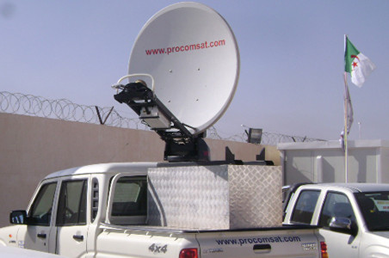 Dear Sir, PROCOMSAT is an Algiers, Algeria based reseller of C-COM manufactured iNetVu® Mobile auto pointing satellite antenna systems. We have purchased a 1.2 iNetVu® equipped with a Tachyon modem and the 9000 Controller from C-COM over a year ago and have used it extensively ever since.
The 1.2 iNetVu® Mobile has been deployed under extremely adverse conditions in the desert with a Comtech Modem and has operated flawlessly finding the satellite within minutes of being deployed. This unit has been operating without any problems through 4 sand storms and remains in excellent working conditions.
Tarik Aït Si Selmi
Operations Manager PROCOMSAT Algeria
"We are using 100 units of the iNetVu® 1.8 mtr antenna with the iNetVu 7000 antenna control unit. When these systems came to us we first tested them thoroughly and during testing only we came to know that these systems are a master piece, because once you are done with the configurations the system itself handles all the things to track the satellite, only you need to put the beacon frequency and satellite direction into the ACU, lat long it will automatically take from the GPS,and on the top of it the cabling from antenna to ACU is so simple. One can easily control all the antenna operations from the ACU. iNetVu also comes with a software which one can load on to a pc and can do much more detailed jobs with the software provided. We are using the systems for almost 2 years and we have not found any problems with the systems, they are rugged, robust, reliable, smart and can make the user feel proud in any kind of extreme conditions. We are fully satisfied with the working of the systems and will share my experience at defexpo with C-COM Satellite Systems and my colleagues and seniors. I congratulate you and hope that you will keep on making these kind of real survivors for the users and wish you good luck for your future."
Anonymous Army Officer (India)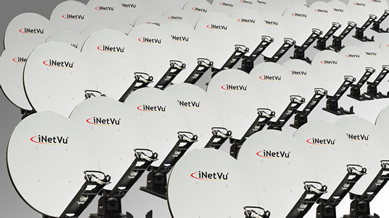 "Well as you know we're currently using your 980 and 1200 systems throughout the world.  While the predominant deployments (over 500) are in the U.S. we also have systems in Iraq, Western Siberia and Canada, which would in my opinion cover some of the harshest environments.  I've not had any complaints or concerns from the frigid region at all so I have the utmost confidence in your systems in that environment."
Anonymous Oil & Gas Integrator
"I'm a hungarian SNG operator from Budapest.
I use this antenna for years now, and i'm fully satisfied with it. It is a user friendly, and reliable device.
The support was always available, nice and helpful when i needed it.
I can only recommend this company."
Tamás Barna, Hungarian Communication Consultant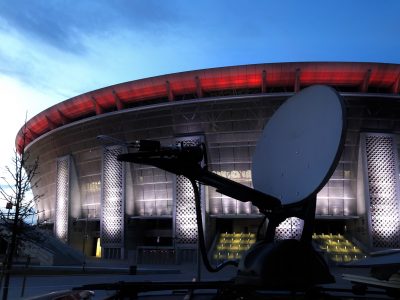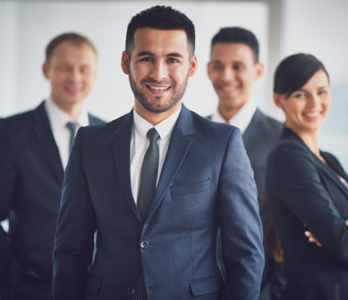 Possessing a great in-house team is key to providing the best in mobile satellite systems, satellite accessories & components, and we have an extraordinary team at C-COM Satellite Systems, in an environment that is dedicated to business growth and global expansion.
To facilitate this growth, we are continuously searching for exceptional people that are looking for an excellent opportunity in this type of fast paced, exciting environment, and we encourage you to explore such opportunities with us. Our experience says that if we find and hire outstanding individuals with the right attitude for our circumstance, then they will become valuable long-term contributors at C-COM.
BECOME A CERTIFIED iNetVu INSTALLER
We also have ongoing opportunities to become a Certified iNetVu® Installer
What is iNetVu® Certified Installer?
iNetVu® Certified Installers are certified to install and service our full line of products. To achieve certification, Installer applicants must attend iNetVu® Introduction Course for Installers.
Major Benefits of registered iNetVu® Certified Installer
Support Tools – access to our support services (help desk, documentation, knowledge base, etc.)
Extra Income – earn money for each installation or service call dispatched by C-COM.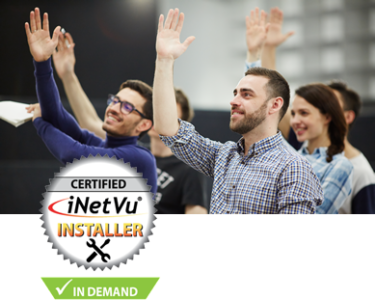 COMPLETE REGISTRATION
FORM TO REGISTER