OTTAWA, September 9, 2014 – C-COM Satellite Systems Inc. (TSXV: CMI), a leading global provider of mobile auto-deploying satellite antenna systems, announced today that it will be exhibiting at the International Broadcasters Conference (IBC), one of the world's largest broadcasting trade shows, from September 12-16th in Amsterdam.  The company will proudly showcase several of its next generation Eutelsat certified antenna products.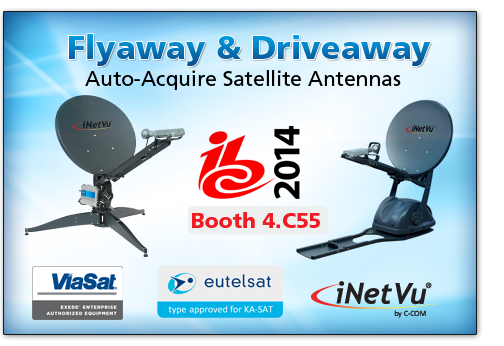 C-COM's Director of Business Development, Drew Klein, will be speaking at the IBC EUSATCOM Conference on Saturday September 13th.  "It's a great pleasure to speak at this illustrious forum on the topic of multi-band flyaway and driveway antennas that expand the opportunities for video contribution" said Klein.  "Our wide ranging and constantly expanding iNetVu® product line continues to allow for more live events to be covered by the world's broadcasters, at a lower price, and with greater efficiency" commented Klein.
The company's booth number is 4.C55 and will be staffed by the entire C-COM sales team. This is C-COM's 4th consecutive year at  IBC; in 2013, the conference hosted over 1500 exhibitors and nearly 53,000 attendees, making it the most important Satellite News Gathering related event in Europe.
About C-COM Satellite Systems Inc.
C-COM Satellite Systems Inc. is a leader in the development and deployment of commercial grade mobile satellite-based technology for the delivery of two-way high-speed Internet, VoIP and Video services into vehicles. C-COM has developed a unique proprietary Mobile auto-deploying (iNetVu®) antenna that allows the delivery of high-speed satellite based Internet services into vehicles while stationary virtually anywhere where one can drive. The iNetVu® Mobile antennas have also been adapted to be airline checkable and easily transportable. The company's satellite-based products and services deliver high-quality, cost-effective solutions for both fixed and mobile applications throughout the world. More information is available at: www.c-comsat.com
iNetVu® is a registered trademark of C-COM Satellite Systems Inc.