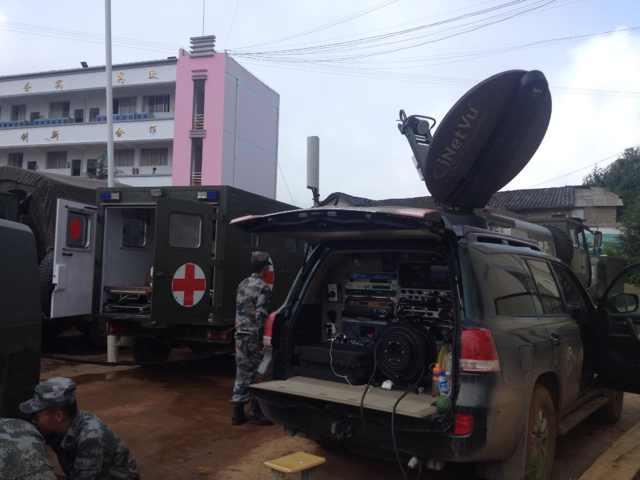 C-COM Satellite Systems Inc. (TSXV: CMI; US – OTC: CYSNF), a leading global provider of mobile auto-deploying satellite antenna systems, announced today that a number of its iNetVu® antenna systems have been deployed to assist with communications during the recent earthquake in China.
Unisat, one of C-COM's largest resellers in China, and their customer, China Mobile, have deployed a number of iNetVu® mobile antennas in the earthquake affected region of Yunnan to re-establish cellular communications and provide emergency services.
"We have been working with C-COM and its iNetVu® mobile antennas for more than 8 years." said Mr. Jian Liu, President and CEO of Unisat. "Unisat was the first C-COM reseller in China and we have installed a large number of iNetVu mobile products. Many of the C-COM products we sell are deployed for emergency and disaster management." Mr. Liu continued: "During the last big Chinese earthquake in 2008, Unisat has delivered a number of iNetVu® mobile antennas to provide emergency communications and TV uplink transmission from the earthquake zone. Our customers in China depend on the reliability of the iNetVu® products. All of the systems which were deployed during the 2008 earthquake are still working today without the need of any replacement parts. We expect to sell many more units to both existing and new customers in China."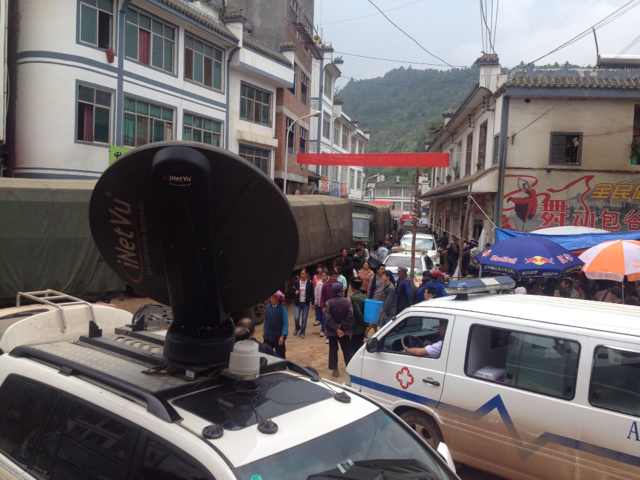 "We are pleased to be able to work with Unisat and be able to provide them with technology that, with the simple press of a button, can restore cellular communications and deliver lifesaving services to a disaster zone." said Leslie Klein President and CEO of C-COM Satellite Systems Inc.
About Unisat Communications Technology Co.,Ltd
Unisat Communications Technology (Beijing) Co., Ltd ("Unisat") headquartered in Beijing, with offices across China and with distributors throughout Asia is a major supplier of satellite communications equipment. Established over 15 years ago the company employs over 100 communication professionals specialized in satellite communications network operation, satellite system integration and related communications software development. As a customer oriented company and market leader in the satellite communications industry, the company delivers complete turnkey solutions worldwide and offers professional services in system integration and network operation for customers from various industries and government organizations; including financial institutions, security firms, educational and training organizations, telecom companies, public security industries, firefighting departments, military forces, commercial and industrial administration sectors and many others.
About C-COM Satellite Systems Inc.
C-COM Satellite Systems Inc. is a leader in the development and deployment of commercial grade mobile satellite-based technology for the delivery of two-way high-speed Internet, VoIP and Video services into vehicles. C-COM has developed a unique proprietary Mobile auto-deploying (iNetVu®) antenna that allows the delivery of high-speed satellite based Internet services into vehicles while stationary virtually anywhere where one can drive. The iNetVu® Mobile antennas have also been adapted to be airline checkable and easily transportable. The company's satellite-based products and services deliver high-quality, cost-effective solutions for both fixed and mobile applications throughout the world. More information is available at: www.c-comsat.com
iNetVu® is a registered trademark of C-COM Satellite Systems Inc.
###
Neither TSX Venture Exchange nor its Regulation Services Provider (as that term is defined in the policies of the TSX Venture Exchange) accepts responsibility for the adequacy or accuracy of this release.