Operators, manufacturers want a $300 terminal
by Alex Goldman
Although consumer connectivity has historically driven a minority of the demand in the global ground segment, that could change as large broadband constellations begin to come online.
Consumers may have access to Starlink connectivity from Tesla's (NASDAQ:TSLA) Supercharger charging stations, according to reports. Tesla is installing Starlink dishes at the locations where electric vehicles charge.
Recharging an electric vehicle can take time, presenting an opportunity to sell Starlink bandwidth. The bandwidth that a single Starlink dish provides is far more than any retail outlet needs for point-of-sale device connectivity, noted TechCrunch. Point-of-sale system provider Square notes that each transaction uses no more than 50 kilobits. Starlink claims its terminals deliver between 100 Mbps and 200 Mbps.
Starlink connectivity is an option on many Tesla vehicles, but it will not be available in China pursuant to connectivity regulations there, according to a report from the Times of India citing various Chinese sources.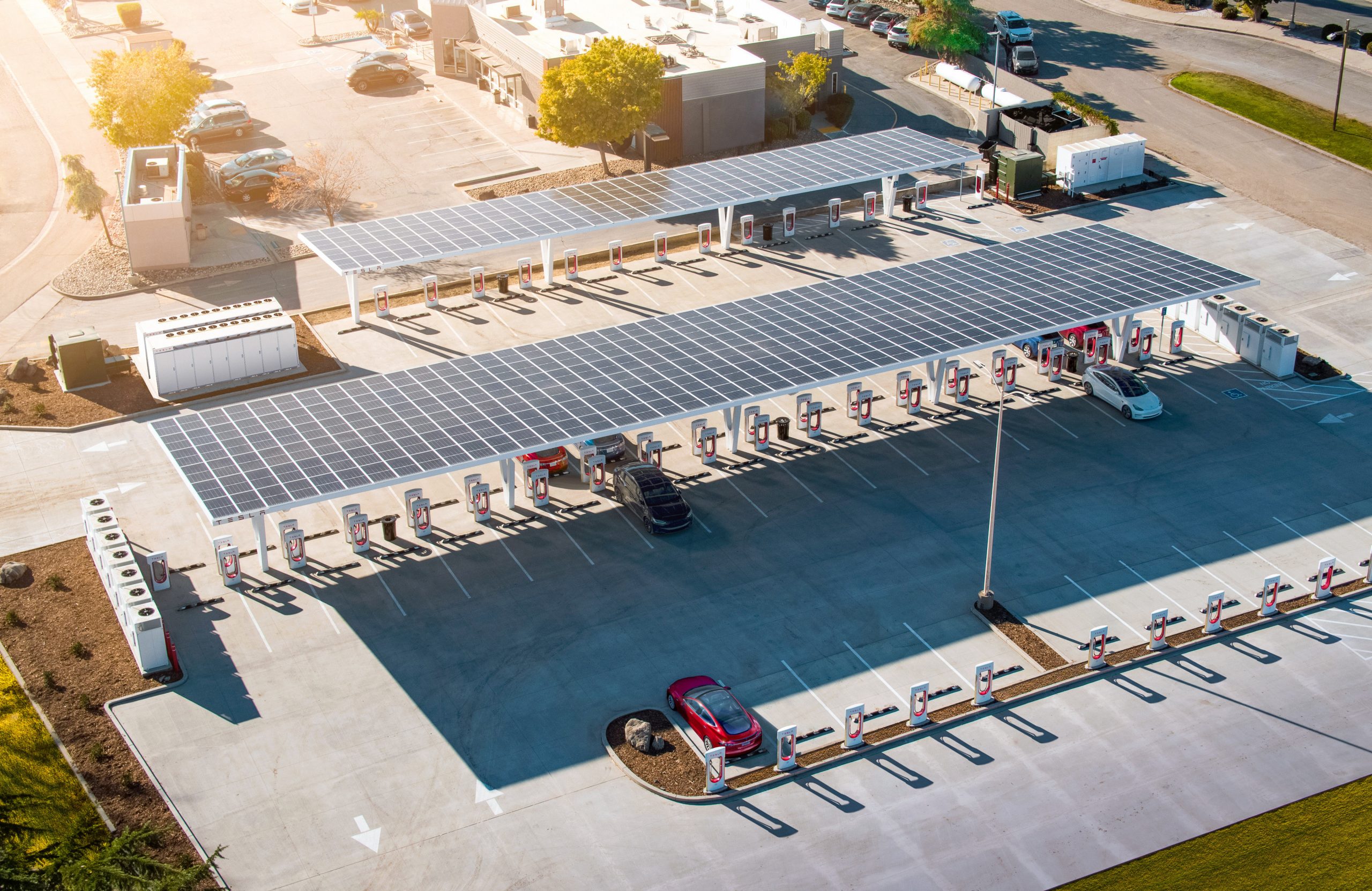 Image source: Tesla
"[T]he holy grail in terms of price point seems to be $300 per unit for broadband access," Jose Del Rosario, consultant at Northern Sky Research, said Thursday during a webinar hosted by trade association GVF: "Ground Segment: All Change for a New Satcoms Era."
"How are we going to get there," Del Rosario asked.
Starlink is working to drive down the manufacturing price of its terminals, because selling them for $500 when their manufacture costs $1,000 "is not compelling at scale," CEO Elon Musk has said.
Manufacturers have been discussing requirements with network operators, moving beyond initial discussions of price and on to discussions regarding tradeoffs, Onur Karabey, founder and CEO of Germany-based manufacturer Alcan Systems, said during the webinar.
Enterprise customers, who are willing to pay $2,000 for a terminal, will have flat panels sooner than residential broadband customers, Karabey added. Enterprise customers will be served by multi-orbit operators.
Prices for flat panel antennas will decline once orders reach hundreds of thousands or millions of antennas, said Leslie Klein, president and CEO of Ottawa-based manufacturer C-COM Satellite Systems (TSXV:CMI). C-Com's outsourcing strategy gives it a price advantage. "[V]olume dictates the price," he said. "We are still far away from having an antenna system that will be as cost effective as a parabolic antenna."
Melville, N.Y.-based manufacturer Comtech (NASDAQ:CMTL) is investing in Basingstoke, U.K.-based CGC Technology, which it acquired last year for $24 million, "where we'll be manufacturing gateway antennas with X Y mounts," said Vagan Shakhgildian, president of Comtech Satellite Network Technologies – Commercial Group. The company is also building a factory in Chandler, Ariz., he added.
Manufacturers must be ready to deliver in all spectra, including optical and V-band, Shakhgildian added, noting that virtualized infrastructure may enable new waveforms.
U.K.-based Global Invacom Group announced Oct. 22 a grant for an unspecified amount from the European Space Agency to develop a low-cost Ka-band user terminal with Singapore-based electronics manufacturer Methera Global Communications, to deliver a product in 2024.
"[W]e're going to be aiming at those lower hundreds of dollars," Global Invacom's Chairman and CEO Tony Taylor said during the webinar. "It'll be using legacy technology, but it's a solution now, which I think is what the industry needs."
Source: Connectivity Business