OTTAWA, March 12, 2020 – C-COM Satellite Systems, Inc. (TSXV: CMI; OTC: CYSNF) a pioneer and world leader in the design, development, and manufacture of mobile satellite-based antenna systems, will be presenting at this year's Spring Investor Summit on March 25th-26th in New York City.
Drew Klein, Vice President for C-COM, will be accepting one-on-one meetings with prospective investors over the two-day event. The Spring Investor Summit will take place at the Essex House, featuring over 500 registered executives and investors.
About C-COM SATELLITE SYSTEMS Inc.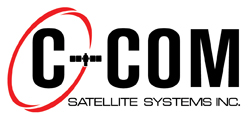 C-COM Satellite Systems Inc. is a pioneer and world leader in the design, development, and manufacture of mobile satellite-based antenna systems for the delivery of Broadband Internet to any location via Satellite. C-COM has developed a proprietary, one-button, auto-acquisition controller technology for rapid antenna pointing to a geostationary satellite with just the press of a button, enabling high-speed Internet connectivity where terrestrial markets are overloaded or simply don't exist. The company has sold approximately 8,500 systems to customers in over 100 countries providing service to a wide range of vertical markets such as Oil & Gas Exploration, Military Communications, Disaster Management, SNG, Emergency Communications, Cellular Backhaul, Telemedicine, Mobile Banking, and others. The Company's iNetVu® brand is synonymous with high quality, reliability and cost-effectiveness.
In partnership with a renowned research team at the University of Waterloo's Centre for Intelligent Antenna and Radio Systems (CIARS), C-COM has been developing a next generation Ka-band flat panel, electronically steerable antenna based on advanced phased array technology for enabling high-throughput mobility applications over satellite: land, airborne and maritime.
More information is available at: www.c-comsat.com
iNetVu® is a registered trademark of C-COM Satellite Systems Inc.
The Company is publicly traded on the Canadian Venture Exchange (TSXV: CMI;  CVE: CMI) and on the US OTC Exchange (OTC: CYNSF).
About The Investor Summit
The Investor Summit (formerly MicroCap Conference) is an exclusive, independent conference dedicated to connecting smallcap and microcap companies with qualified investors.
To register as a presenting company: please contact Cassandra Miller ([email protected])
To request complimentary investor registration: please visit our website at www.microcapconf.com
News Compliments of ACCESSWIRE
FOR MORE INFORMATION
Please visit: www.microcapconf.com
Or, contact Cassandra Miller at [email protected]
# # #
Neither TSX Venture Exchange nor its Regulation Services Provider (as that term is defined in the policies of the TSX Venture Exchange) accepts responsibility for the adequacy or accuracy of this release.