10th Jul 2013, 12:05 pm by Fiona MacDonald
 (Original article: http://www.proactiveinvestors.com/companies/news/45927/c-com-satellite-systems-delivering-fast-paced-growth-with-recurring-revenue-45927.html)
C-COM's latest client, pictured above: the company's next generation mobile antennas to be deployed by first responders in Japan.
C-COM Satellite Systems Inc. (CVE:CMI; US – OTC: CYSNF) is going from strength to strength, with the company's recent news that 22 of its next generation iNetVu® 1201 model antenna systems were to be deployed by first responders in Japan coming the same month as PROFIT magazine placing the company in the annual PROFIT 500.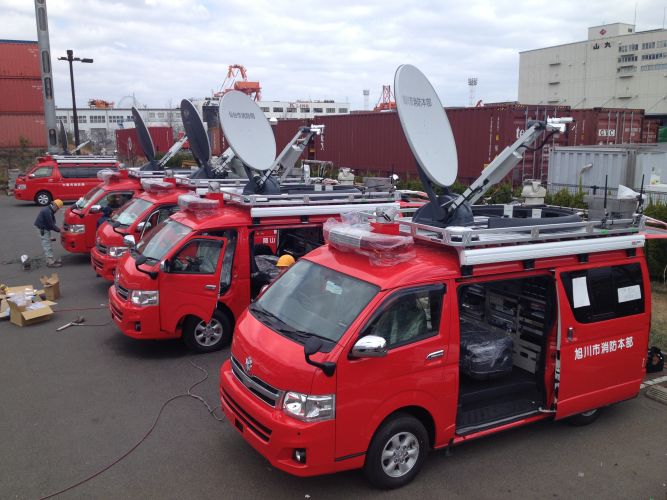 The PROFIT 500 is the definitive ranking of Canada's fastest growing companies, a measure determined by the growth of business over the preceding five years.
Success is by no means new to the Ottawa-based company. As president and CEO Leslie Klein points out, since C-COM, which started in 1997, went public in 2000, it has "never gone back for additional funding."  Indeed, these days the company boasts $13 million in the bank, $3 million worth of inventory, no debt, a record eight consecutive years of profit,  and most importantly, a product in great demand around the world.
The product itself – vehicle mounted, auto-deployed VSAT antennas  for the delivery of 2-way high-speed, mobile internet services into vehicles or other transportable structures – is unique, in that it delivers high speed internet, video, email and VOIP at a push of a button , in locations where there might be no other means of gaining connectivity.
Key to the business model is the fact that while C-COM develops and deploys the proprietary technology, the company minimizes expenses by outsourcing both manufacturing and sales through its Resellers worldwide, a model which fits perfectly the diverse geographical footprint of a product sold in territories as far afield as Siberia and Australia.
The company's approximately 500 Resellers across 120 countries have the advantage of being acquainted with the needs of their locality, speaking the language and providing first level technical support and in some cases tailoring services to come up with such added-value applications as a book mobiles in rural Australia, mobile cellular backhaul in Japan, breast cancer screening in New Zealand and a mobile clinic offering prenatal support in Nigeria. Plainly, the technology has applications limited only by the imagination.
The Resellers "deliver solutions to the customer that generates them recurring revenue and they also provide local support and in a number of countries local service centers", while C-COM provides second level technical support from Canada, says Klein.
Under this model, some 6,000 antennas have been deployed in many different vertical applications, and certainly there is no shortage of uses for the product, from mining, disaster management, telemedicine, cellular back haul, oil and gas explorations and emergency services — particularly in remote areas.
Tellingly, both the FBI and NASA make use of the technology as do the military of such nations as China, Russia, NATO and the U.S.
In the wake of the 2011 Japanese tsunami, which knocked out many cell towers, roughly 340 mobile antennas were sold to Japan, where the company's "antennas replaced the [destroyed] cell towers within weeks."
While a user like Halliburton (NYSE:HAL) can constitute one of C-COM's biggest customers– with "hundreds" of units deployed worldwide for oil and gas exploration –  the antennas have found use in places not at all remote, such as downtown Moscow, for applications requiring a great deal of bandwidth.
"Television stations use them all over Europe for transmitting tremendous amounts of video because your regular WiFi or cell coverage is not [adequate] due to the amount of bandwidth required. If you need a tremendous amount of bandwidth, only a satellite can satisfy that."
"Potentially, a person in the Sahara desert may have greater bandwidth access than someone in downtown Toronto."
"There is no other technology —  at the moment that would be able to provide the capacity and ubiquity of a satellite."
Add to this a market where there is a limited number of  competitors  most of whom are reliant on selling this type of technology to mainly military customers, thus turning out well-built but expensive products that are typically overbuilt and overpriced for many commercial applications.
These competitors, already suffering from reduced military spending, have seen military customers in search of a good deal get wise to the fact that C-COM's product, which has proven itself capable of tolerating temperatures as extreme as the -50 degrees found in Siberia and the 50 degrees typical of the deserts of Africa, is a good deal when comparing it to mil spec equipment that is both overpriced and over engineered.
The technology C-COM designed into its commercial antenna products is advanced, simple to use, reliable and manufactured on a production line in large quantities. It is designed  to work with every satellite  modem and able to find the satellite at a press of a button in a matter of minutes, obviating the need and expense for a highly skilled satellite antenna technician labouring over it for a number of hours.
Perhaps even more likely to resonate for shareholders is the recently-added dividend policy the company has been paying for roughly a year, at the rate of 4 cents a year, which has been funded from the "quite substantial reserve", says Klein.
"We have been making  more money every year than what the dividend pays out, so it does not affect our need for cash or operating capability."
Klein has every motive to keep shareholders happy as he is one himself, holding 40 per cent of the company.
The company has seen rapid organic growth, some of the most recent of which was fueled by the tsunami, helping the company make the leap from $10 million of revenues in 2010 to $19 million in 2011 "without increasing our overhead at all," says Klein.
Its run of good news continues, with the freshly-released figures for the second quarter of the year seeing an increase in every metric to the tune of a 42 per cent increase in revenue, a 75 per cent increase in earnings per share, and a 78 per cent increase in net income.
Shares of the company have more than doubled so far this year, currently trading up on the TSX Venture Exchange, adding 4 cents to a previous close of $1.43 to hit $1.47 per share, an increase of 2.8 per cent and well above the level of 50 cents of a mere 12 months ago, for a market capitalization of almost $47 million.