C-COM Satellite Systems Inc., (TSXV: CMI; US – OTC: CYSNF) the leading global provider of mobile auto-deploying satellite antenna systems, today announced that its iNetVu® FLY-75V antenna system received authorization from ViaSat Inc. (NASDAQ: VSAT) for use on ViaSat Exede® Enterprise Service. ViaSat is a provider of satellite and other digital communication systems and services.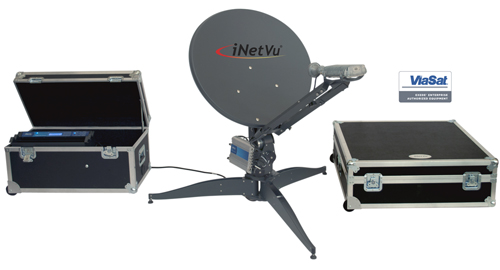 This is a significant achievement for C-COM as the FLY-75V is the first auto-deploying flyaway product to be authorized for use on ViaSat's Exede® Entreprise service in the USA. ViaSat's Ka-band, high-capacity satellite delivers broadband services for the accelerating demand by the government, military, broadcasting, Oil & Gas and Emergency Response markets.
"C-COM has been working very closely with ViaSat to ensure that our new auto-acquiring flyaway antenna is fully compatible with the Exede® Entreprise service and is in full compliance with Satellite News Gathering (SNG) antenna specifications" said Bilal Awada, CTO of C-COM Satellite Systems Inc.
"The Fly-75V system has passed all mechanical, optical, and RF performance tests as required by Viasat's Auto-Acquire Terminal Qualification Process with a great level of pointing accuracy and repeatability," Awada continued.
"This highly portable light weight system, which can be assembled by one person without any tools in less than 10 minutes, is aimed for SNG and First Responders, who require quick field setup and high speed broadband connectivity" said Leslie Klein, CEO of C-COM Satellite Systems Inc.
A number of iNetVu® Fly-75V flyaway antenna systems have already been delivered to the field. Full production rollout with immediate availability is expected in April 2014.
"We are very excited about the many enterprise applications that ViaSat's Exede® Enterprise Service enables," said Kristin Scheib, ViaSat product manager. "The iNetVu® FLY-75V provides a great fly-away antenna solution for applications such as Satellite News Gathering and First Responders."
About C-COM Satellite Systems Inc.
C-COM Satellite Systems Inc. is a leader in the development and deployment of commercial grade mobile satellite-based technology for the delivery of two-way high-speed Internet, VoIP and Video services into vehicles. C-COM has developed a unique proprietary Mobile auto-deploying (iNetVu®) antenna that allows the delivery of high-speed satellite based Internet services into vehicles while stationary virtually anywhere where one can drive. The iNetVu® Mobile antennas have also been adapted to be airline checkable and easily transportable. The company's satellite-based products and services deliver high-quality, cost-effective solutions for both fixed and mobile applications throughout the world. More information is available at:www.c-comsat.com
About ViaSat
ViaSat delivers fast, secure communications, Internet, and network access to virtually any location for consumers, governments, enterprise, and the military. ViaSat also offers communication system design and a number of complementary products and technologies. Based in Carlsbad, California, ViaSat has established a number of locations worldwide for customer service, network operations, and technology development.
iNetVu® is a registered trademark of C-COM Satellite Systems Inc.
Exede is a service mark of ViaSat Inc.
### 
Neither TSX Venture Exchange nor its Regulation Services Provider (as that term is defined in the policies of the TSX Venture Exchange) accepts responsibility for the adequacy or accuracy of this release.