OTTAWA, June 23, 2020 – C-COM Satellite Systems Inc. (TSXV: CMI), the world's leading designer and manufacturer of commercial grade, auto-acquire mobile satellite antenna systems, announced today that it has completed integration of the Comtech EF Data branded Heights™ Networking Platform with the Company's iNetVu® antenna controllers. The latest Comtech VSAT networking platform, which encompasses several new modems, notably the H-Plus Remote Gateway, is now fully compatible with all C-COM Flyaway and Driveaway antenna systems.
Using the Comtech EF Data H-Plus Remote Gateway and testing over the SES-3 (103W) satellite, C-COM's 98cm Ku-band flyaway and driveaway antenna systems configured  with the iNetVu® 7710 controller, were able to seamlessly acquire satellite in under 2 minutes, and connect to the network.
C-COM's 'Best in Class' antenna controllers offer interoperability with 14 different modem manufacturers and with more than 35 different models.
"We are happy to add Comtech EF Data's highly advanced networking platform to our list of approved and integrated RF equipment," said Leslie Klein, President & CEO of C-COM Satellite Systems, Inc. "C-COM and Comtech EF Data have been collaborating for many years. Our iNetVu products are already integrated with 7 unique
Comtech EF Data modems, and it's nice to see the innovation continue with the Heights product line," Klein continued.
"The interoperability of our Heights Networking Platform with the C-COM flyaway and driveaway antenna systems will enable users to leverage high performance, efficient and reliable connectivity solutions for demanding mobility applications," commented Louis Dubin, Senior Vice President, Product Management and Marketing of Comtech EF Data.
The Heights Networking Platform combines Comtech EF Data's most efficient waveforms, header and payload compression engines, WAN optimization, proven dynamic bandwidth and power management along with bi-directional ACM capability to provide the highest user throughput, highest availability, and most optimal resource utilization available in the industry.
C-COM mobile antennas with iNetVu® controllers, compatible with the Heights Networking Platform, are available for immediate delivery.
About C-COM Satellite Systems Inc.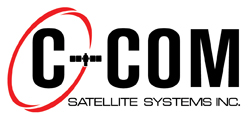 C-COM Satellite Systems Inc. is a pioneer and world leader in the design, development, and manufacture of transportable and mobile satellite-based antenna systems. The Company has developed proprietary, auto-acquisition controller technology for rapid antenna pointing to a satellite with just the press of a button, enabling Broadband Internet via Satellite across a wide range of market applications worldwide, including regions unserved or underserved by terrestrial access technologies.
C-COM has sold more than 8,500 antenna systems, in over 100 countries, through a dedicated dealer network that provides service to a wide range of vertical markets such as Oil & Gas Exploration, Military Communications, Disaster Management, SNG, Emergency Communications, Cellular Backhaul, Telemedicine, Mobile Education, Government Services, Mobile Banking, and others. The Company's iNetVu® brand is synonymous with high quality, reliability, and cost-effectiveness.
C-COM is in late stage development of a potentially revolutionary Ka-band, electronically steerable, modular, conformal, flat panel phased array antenna. In cooperation with the University of Waterloo, C-COM is engaged in the design of this unique antenna with the intent of providing low-cost, high-throughput mobility applications over satellite for land, airborne and maritime verticals. For additional information please visit www.c-comsat.com
iNetVu® is a registered trademark of C-COM Satellite Systems Inc.
The Company is publicly traded on the Canadian Venture Exchange (TSXV: CMI) and on the US OTC Exchange (OTC: CYSNF).
About Comtech EF Data Corp.
Comtech EF Data Corp., a subsidiary of Comtech Telecommunications Corp. (NASDAQ: CMTL), is a leading supplier of communications equipment with a focus on satellite bandwidth efficiency and link optimization. The high-performance satellite communications ground equipment is deployed globally to support mission-critical and demanding applications for government, mobile backhaul, premium enterprise and mobility. Service providers, satellite operators, governments and commercial users wanting to optimize communications, increase throughput and delight customers, are leveraging the performance and flexibility of the Comtech brand. The solutions are facilitating fixed and mobile networks in 160+ countries and across every ocean. For more information, visit www.comtechefdata.com.
###
Neither TSX Venture Exchange nor its Regulation Services Provider (as that term is defined in the policies of the TSX Venture Exchange) accepts responsibility for the adequacy or accuracy of this release.