2022 was a productive year for the company. We started the year with significant orders from our existing and new customers. We have seen great demand for our vehicle mount as well as Flyaway and Manpack units from all over the world.
We have received and were able to ship, on time, over 120 systems to a single customer and delivered many others in the range of 30-50 systems to others worldwide. A number of new reseller and Integrators have been signed up over the last 12 month addressing a number of new geographies coupled with new markets (Egypt, Algeria, Indonesia-Military, USA, Australia-Disaster Management, Cellular Backhaul, Kazakhstan, Saudi Arabia, Oman-Oil and Gas Exploration) just to name a few.
Our extensive inventory of ready to ship systems made this all possible. Despite supply chain issues and component shortages facing many of us in the SATCOM industry we were able to manage the long lead items, design new products, manufacture, and ship these without interruptions.
To mitigate obsolescence and component shortages and keep pace with the industry we have designed and manufactured several new products. These new products are fully compatible with the latest modems and services offered by satellite providers.
The following developments were completed, and new products launched for new markets:
Ka-74G Approval with Eutelsat/Konnect service;
Ka-74H to support HNS Jupiter service;
Ka-75VP Approval with Viasat service;
7715 FCC/CE certifications;
New 1200+ Environmental Testing and Compliance and release to production;
New Software Releases for all iNetVu controllers (7000/7710 and 7715) to support new modems and new antenna platforms;
New FLY-74 Ku-band and Fly-74H Ka band Antenna;
New FMA-2.4m with slewing drive design covering wider Azimuth range;
New Beacon Receiver BR-400L released to replace the discontinued model;
Introduced new version of Manpack Ka band (wide band) with XRF 2-axis system;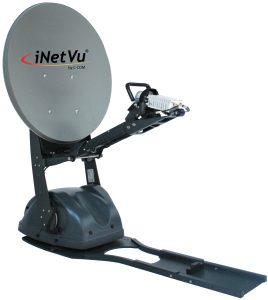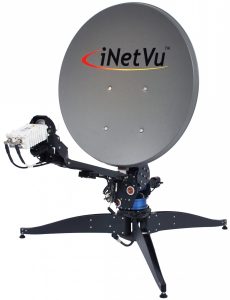 Ka-74G                                                                Fly-74G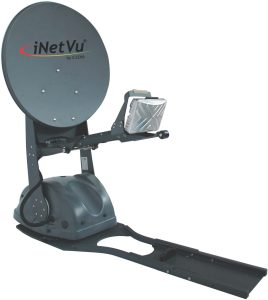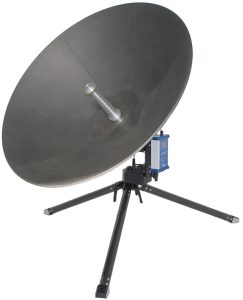 Ka-75VP                                                               ManPack
Our Phased Array development team, previously located at the University of Waterloo is now located in their new office on the campus of the University and continues the development and commercialization of our electronically steered phased array antenna.
About C-COM Satellite Systems Inc.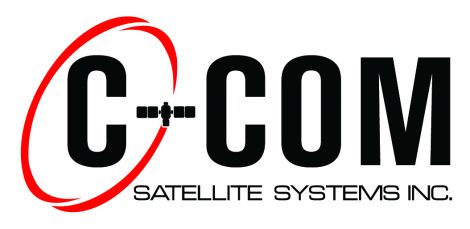 C-COM Satellite Systems Inc. is a pioneer and world leader in thedesign, development, and manufacture of transportable and mobilesatellite-based antenna systems. The Company has developedproprietary, auto-acquisition controller technology for rapid antennapointing to a satellite with just the press of a button, enabling Broadband Internet via Satellite across a wide range of market applications worldwide, including regions unserved or underserved by terrestrial access technologies.
C-COM has sold more than 10,000 antenna systems, in over 100 countries, through adedicated dealer network that provides service to a wide range of vertical markets such asOil & Gas Exploration, Military Communications, Disaster Management, SNG, EmergencyCommunications, Cellular Backhaul, Telemedicine, Mobile Education, Government Services, Mobile Banking, and others. The Company's iNetVu® brand is synonymous with high quality, reliability, and cost-effectiveness.
C-COM is in late-stage development of a potentially revolutionary Ka-band, electronically steerable, modular, conformal, flat panel phased array antenna. In cooperation with the University of Waterloo, C-COM is engaged in the design of this unique antenna with the intent of providing low-cost, high-throughput mobility applications over satellite for land, airborne and maritime verticals. For additional information please visit www.c-comsat.com.
iNetVu® is a registered trademark of C-COM Satellite Systems Inc.
The Company is publicly traded on the Canadian Venture Exchange (TSXV: CMI) and on the US OTC Exchange (OTCQB: CYSNF).
# # #
Forward Looking Statements
This news release contains forward-looking statements. These statements relate to future events or future performance and reflect management's current expectations and assumptions. Expectations with respect to its Ka-band antenna contain forward-looking information. Several factors could cause actual events, performance, or results to differ materially from the events, performance and results discussed in the forward-looking statements. Anticipated benefits of the new technology may not be realized, and new products and services may not be released or, if released may not gain market acceptance. Any of those events and others could influence future performance and C-COM Satellite Systems Inc.'s ability to achieve the results mentioned above. These forward-looking statements are made as of the date hereof and C-COM Satellite Systems Inc. does not assume any obligation to update or revise them to reflect new events or circumstances. Readers are directed to the risk factors associated with the business of C-COM Satellite Systems in the company's most recent MD&A available at www.SEDAR.com.