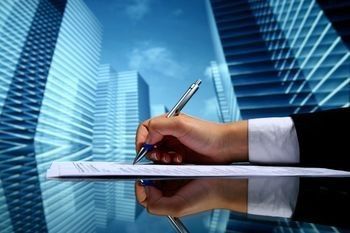 Why Invest in C-COM?
A pioneer in the satellite industry since 1997, C-COM has been consistently in the forefront of developing new and innovative auto-pointing satellite antenna products to meet the ever changing needs of its many vertical markets. Since developing it's first motorized, auto-pointing SATCOM terminal (iNetVu®) in 2003, the Company has shipped over 8,000 mobile antenna systems into more than 100 countries. The proprietary iNetVu® Mobile antenna systems deliver cost-effective and highly reliable satellite based Broadband Internet to users in various vertical markets who require connectivity in remote locations. C-COM works closely with our 500+ dealer partner network and new integrators from new regions continue to expand the Company's footprint worldwide. Backed by major service providers with compatibility approvals, C-COM boasts the deployment of the first Ka-band antenna systems in North America, Europe and the Middle East.
C-COM has significant and aggressive plans to be a disruptive force in the antenna design market. The Company is heavily investing into the R&D of next generation antenna systems, specifically a Ka-band Comm-on-the-Move (COTM) product which will be able to deliver high speed Ka-band Broadband Internet services into vehicles, buses and trains while in motion. First iterations of mechanically steerable antennas are expected to be available in the marketplace in 2018, and an electronically steerable phased array flat panel solution is also under development.
The Company has delivered its 13th CONSECUTIVE PROFITABLE YEAR, 28 consecutive profitable quarters as of the 1st quarter in 2018 and has paid out 24 consecutive quarterly dividends. C-COM has no debt and nearly $20 million CDN in working capital.
Download C-COM's General Presentation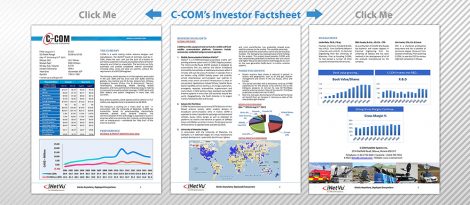 C-COM Satellite Systems Stock Quotes
C-COM Satellite Systems Inc. stock trades on the Toronto stock exchange (TSX Venture) under the symbol CMI. Current C-COM stock quotes are available at the following Web sites:
C-COM Satellite Systems Financial Reports
For the latest up-to-date financial information and other relevant public documents on C-COM, please click on the links below.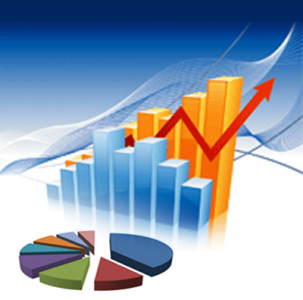 C-COM Financial Information

Legal Notice
The above sites are operated by independent third parties. C-COM Satellite Systems can make no claims as to the accuracy of this price information. The stock prices shown on these sites are not necessarily indicative of future price performance.
---